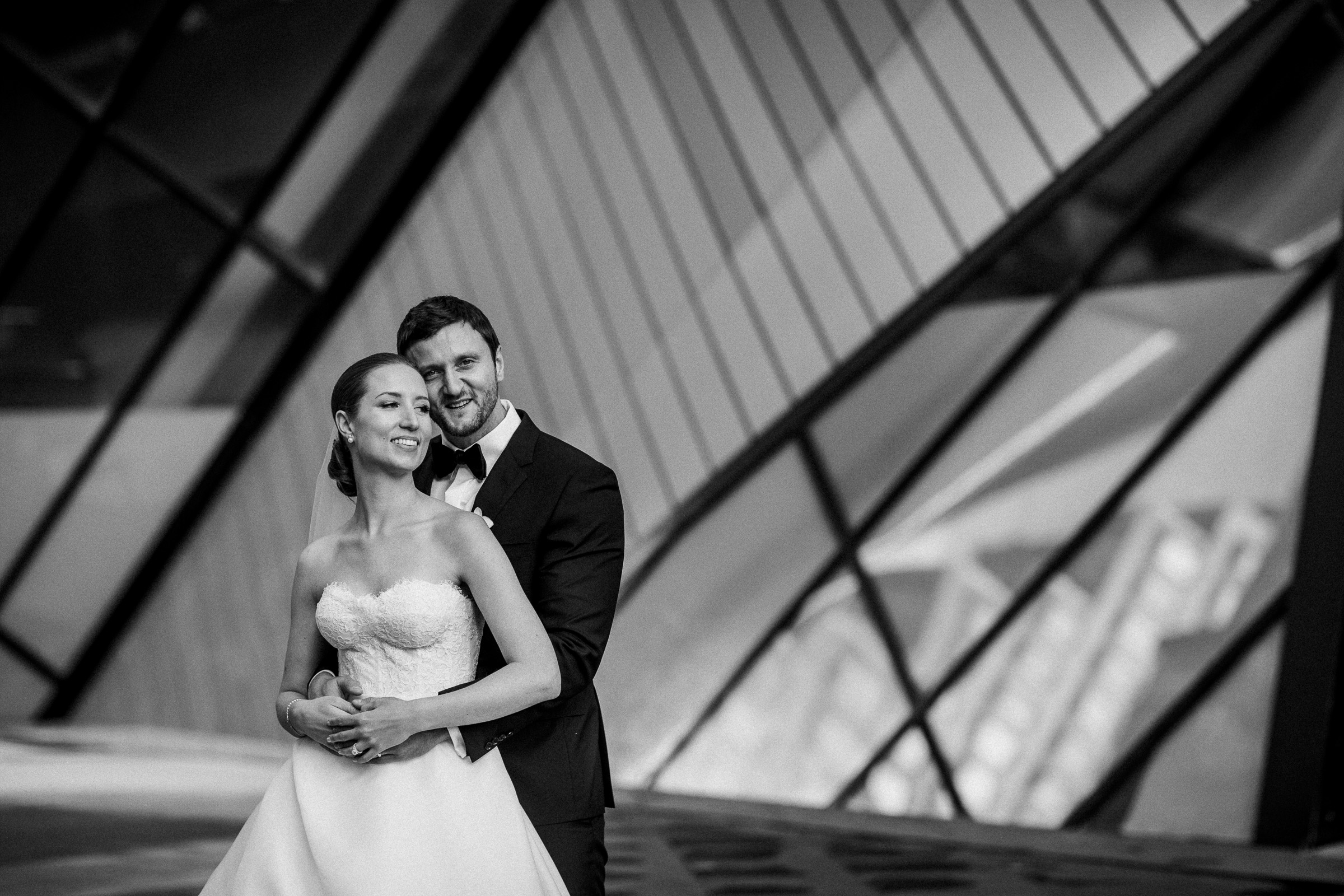 Today we present a beautiful wedding that combined two best landmarks that Toronto has to offer – Trinity College and Ontario Royal Museum. We begin our day at the cozy embrace of our couple's home, where Laura and Maciek embarked on the exhilarating journey of getting ready for their long-awaited wedding day. As morning light filtered through the curtains, everyone present moved with a blend of excitement and nerves…
In the heart of Toronto's historic district, nestled within the University of Toronto's St. George campus, lies Trinity College — a place of higher learning and intellectual exploration. However, on a day that will forever be etched in the hearts of those who attended, Trinity College served as a backdrop for a different kind of education — a lesson in love. As the Toronto wedding photographers, we had the privilege of witnessing and capturing the enchanting wedding ceremony that unfolded within the hallowed halls of Trinity College.
Trinity College, with its neo-Gothic architecture, was the ideal setting for this romantic union. The wedding ceremony took place in the stunning and timeless Trinity Chapel, a sanctuary adorned with intricate stained glass windows, high vaulted ceilings, and rich wooden accents. The chapel exudes an air of tranquility and reverence, providing a serene environment for the couple's exchange of vows.
When it comes to choosing the perfect venue for a wedding reception, Laura and Maciek were seeking a location that's not just beautiful, but also unique and memorable. If you're in Toronto, the Royal Ontario Museum (ROM) offers an intriguing and captivating option that ticks all the boxes for an extraordinary wedding reception.
The most obvious reason to choose the ROM as your wedding reception venue is its architectural grandeur. The iconic Michael Lee-Chin Crystal, with its striking glass and aluminum design, serves as an awe-inspiring backdrop for your celebration. Its modern and avant-garde architecture sets the stage for an event that is nothing short of spectacular. Your guests will be in awe from the moment they arrive.
One of the most compelling aspects of the Royal Ontario Museum is its ability to seamlessly blend history and modernity. While the Crystal represents contemporary design, the museum's interior houses an extensive collection of art, history, and natural sciences from around the world. This unique fusion creates an atmosphere that is both timeless and cutting-edge, making it an ideal setting for a wedding that bridges the past and the present.
For those who appreciate the art of photography, the Royal Ontario Museum is a photographer's dream. The museum's diverse spaces, from grand halls to intimate galleries, provide endless opportunities for capturing stunning and unique photographs. Whether it's a romantic moment under the Crystal's glass canopy or a candid shot among the museum's exhibits, your wedding photos will be nothing short of breathtaking.
We love the ROM as a wedding reception venue because it conveys a sense of culture and sophistication. The museum's ambiance, filled with artifacts and art pieces from various civilizations, adds an air of cultural richness to wedding celebration, making it an unforgettable experience.
So there we have it … Royal Ontario Museum as a wedding reception venue, not only a cool location but an experience that is truly unique and unforgettable. The ROM's architectural beauty, cultural richness, and blend of history and modernity make it a captivating choice for any couples seeking an intriguing and enchanting place to celebrate their special day. Until next time …