9 tips for grooms on the wedding day.
Hello everyone. It's been awhile since our last blog posting, as the wedding season in Toronto kept us busy, but today we have a new article for you. Today we will be sharing with you 9 tips for grooms on the wedding day.
Tip # 1
Our first tip for any groom is to make sure that your suit or tux is properly fitted. Many times as a Toronto wedding photographers we see a lot of poorly fitted suits and tuxedos. Most of the time that means baggy suits but sometimes we even see even baggy pants. It does not look good when the pants of the suit or tuxedo are too long or just really baggy. They photograph really terribly and there's not much we can do to fix in editing.
It is possible to kind of shape it up a little bit in post-production but your wedding photographer probably isn't going to do, at least not for free, because it is very time consuming. You want to make sure that you're setting yourself up for success from the get go.
If you are renting your wedding attire make sure that you can go try it on ahead of time or at least get your proper measurements, so that you can rent it and it's going to come properly fitted. Remember when renting you're not going to be able to alter it to your body.
If you are buying you can definitely tailor it to your body perfectly so make sure that you are getting a properly fitted suit or tuxedo, and then once you're getting it tailored to your measurements, don't lose or gain any weight after you've set it up for your body. This is one of the most important out of 9 tips for grooms on the wedding day.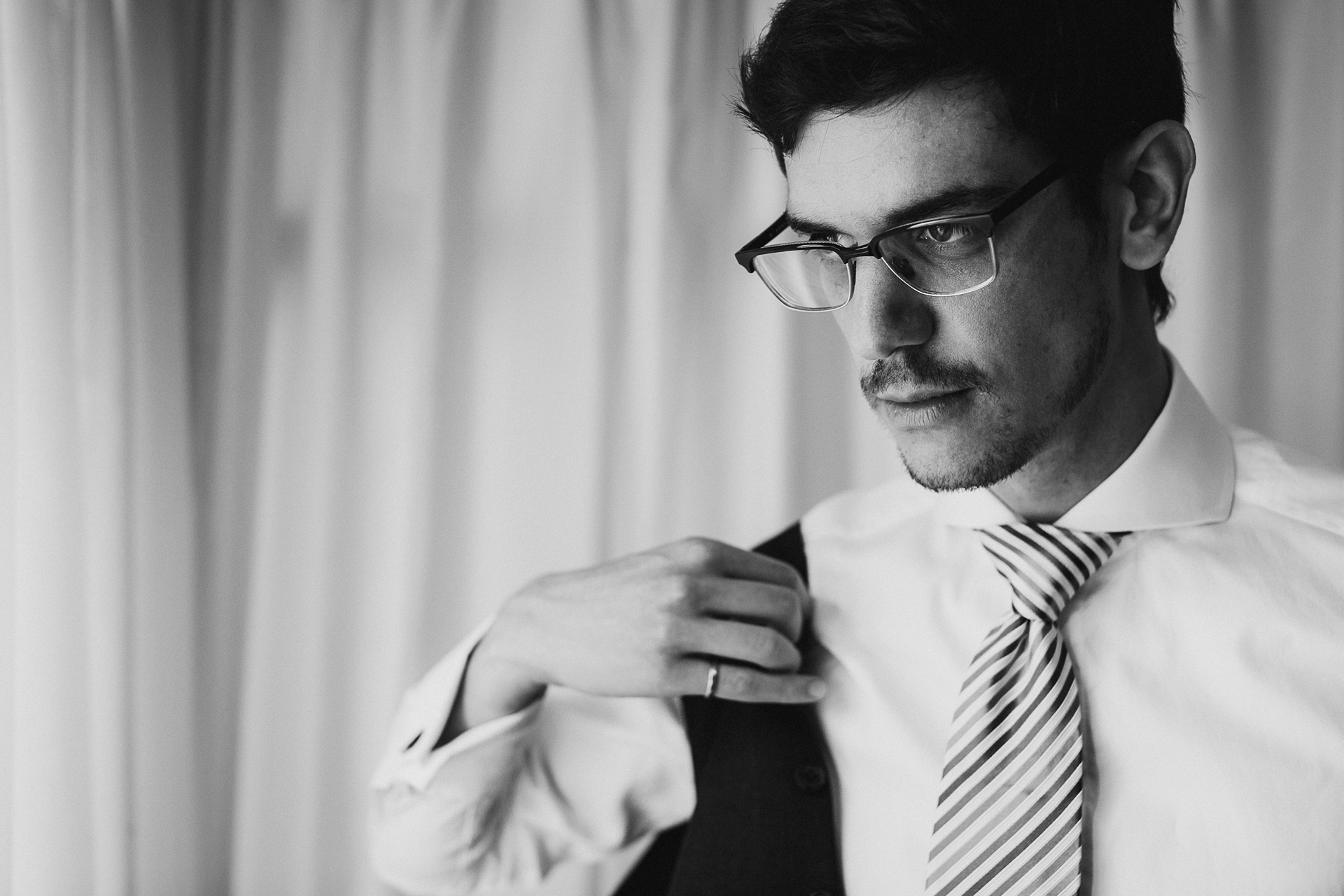 Tip # 2
Our second tip is about a makeup, and specifically not being afraid of a little concealer makeup on the wedding day. We know that grooms shy away from this idea but from our experience sometimes they could use some products to hid blemishes or skin issues.
Remember your wedding photographer might not include free skin touch-ups in post editing. Some of photographers that we know are willing to touch up some of the blemishes in a couple of photos maybe one or two as a courtesy to you. Some wedding photographers charge extra per photo and it really depends on the contract.
We provide this service as a courtesy and include 25 free pictures touchups. Our advice is if you have bad skin, acne or some blemishes go and get some concealer and use it on the wedding day. It is easier to deal with these issues with makeup rather than edit in post-production.
Don't be afraid of makeup idea – there's nothing wrong with a man using concealer to cover up blemishes – that's what concealer is for. We know a lot of makeup artists, if they're there for the bride, they won't charge you very much to come over and pop into your room and do little a bit of concealer on you.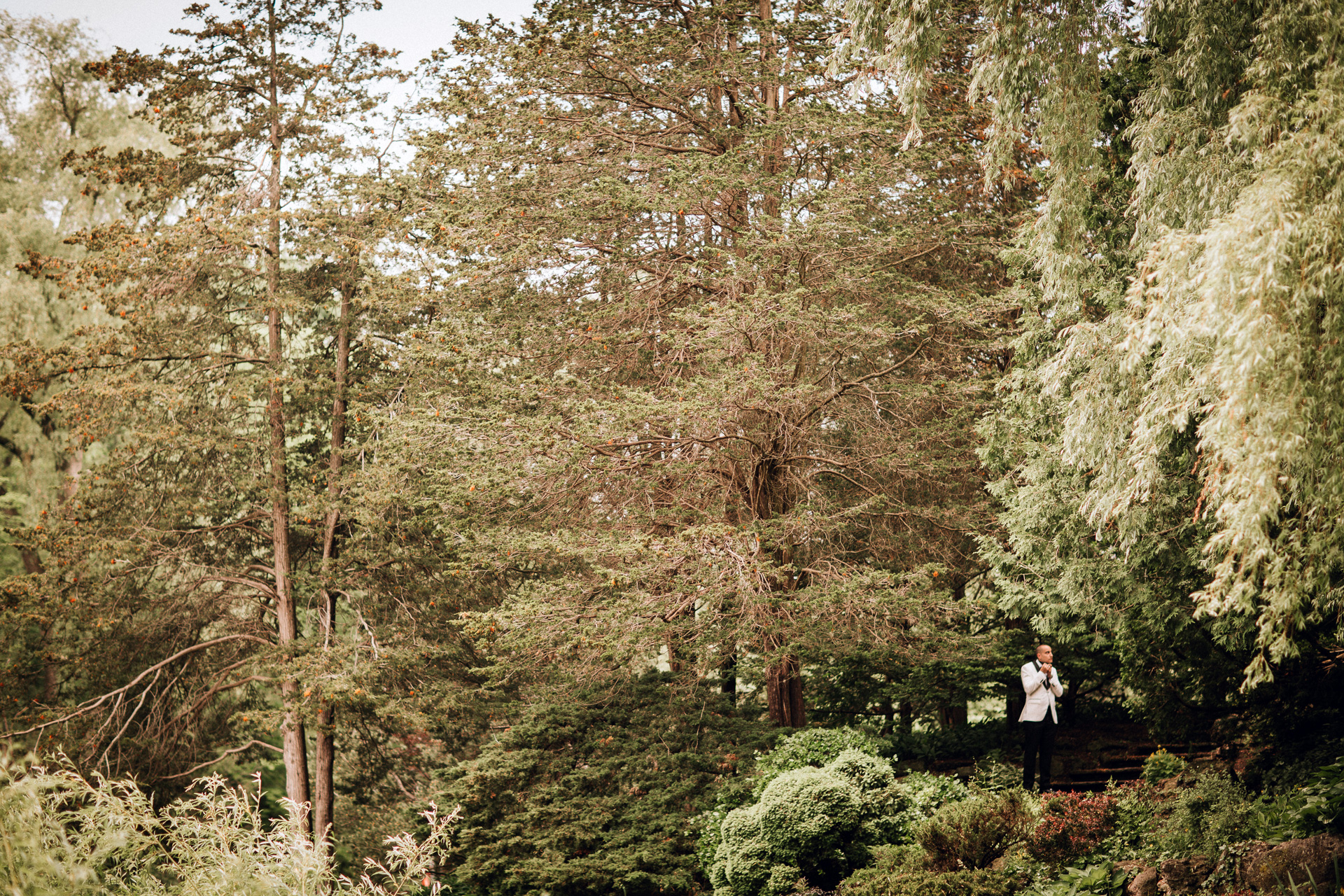 Tip #4
Another issue that some grooms are prone to is a razor burn, particularly on your neck area. You want to make sure that you avoid this at all costs for your wedding day. Again this comes into the realm of wedding photographer that might not be retouching this. Especially that is not a very easy thing for a photographer to retouch. At all cost you want to make sure that you are preventing this in the days leading up to your wedding.
We would suggest that you do some research on the internet and look different solutions for razor burn, so in the months or weeks leading up to your wedding, experiment with different solutions, something that might work for you. You can also try contacting a dermatologist if nothing works.
Tip #4
Let's talk about wedding portrait session. We've noticed that when it comes to wedding portraits sometimes our grooms are not always very keen on taking those pictures. Usually our brides and most of the grooms are excited about these pictures but sometimes our grooms show lack of interest or even unhappiness.
Our advice would be on the wedding day you need to find some sort of enthusiasm or just get yourself in the mindset of enjoying taking these pictures – the more you let yourself enjoy them the better you're going to look in them.
Try to enjoy these pictures on your wedding day because it is an investment, try to enjoy them the best you can. Look at it as just spending some fun quality time with your spouse and just try to get in the right mindset of having fun with your wedding pictures.
Tip #5
Our next tip is about taking control of your groomsmen. Make sure that your group is respectful and pay attention to your photographer. During the getting ready portion of the day, the groomsman can get a little bit more rowdy than the bridesmaids, especially if there is alcohol involved. We're run into situation especially with female photographers being abused and disrespected by groomsman.
When the time comes for formal portraits, make sure your wedding party is listening to the photographer. Sometimes we have troubles with the groom and groomsman not listening or almost not caring about getting the formal photos done. We understand they everyone wants to have fun on the wedding day, but a lot of times when alcohol is involved, it's very difficult getting anyone's attention.
Tip #6
Also try to pace yourself and your wedding party when it comes to drinking alcohol before the ceremony. We had instances when groomsman went a little too hard on drinks before the ceremony and it certainly showed.
We had grooms walking down the aisle for their ceremony and you could clearly tell that they had been drinking and it was just too much. We had people getting really cranky and even verbally abusive during group photos before the ceremony, and it's not very fun for wedding photographers to be in this situations.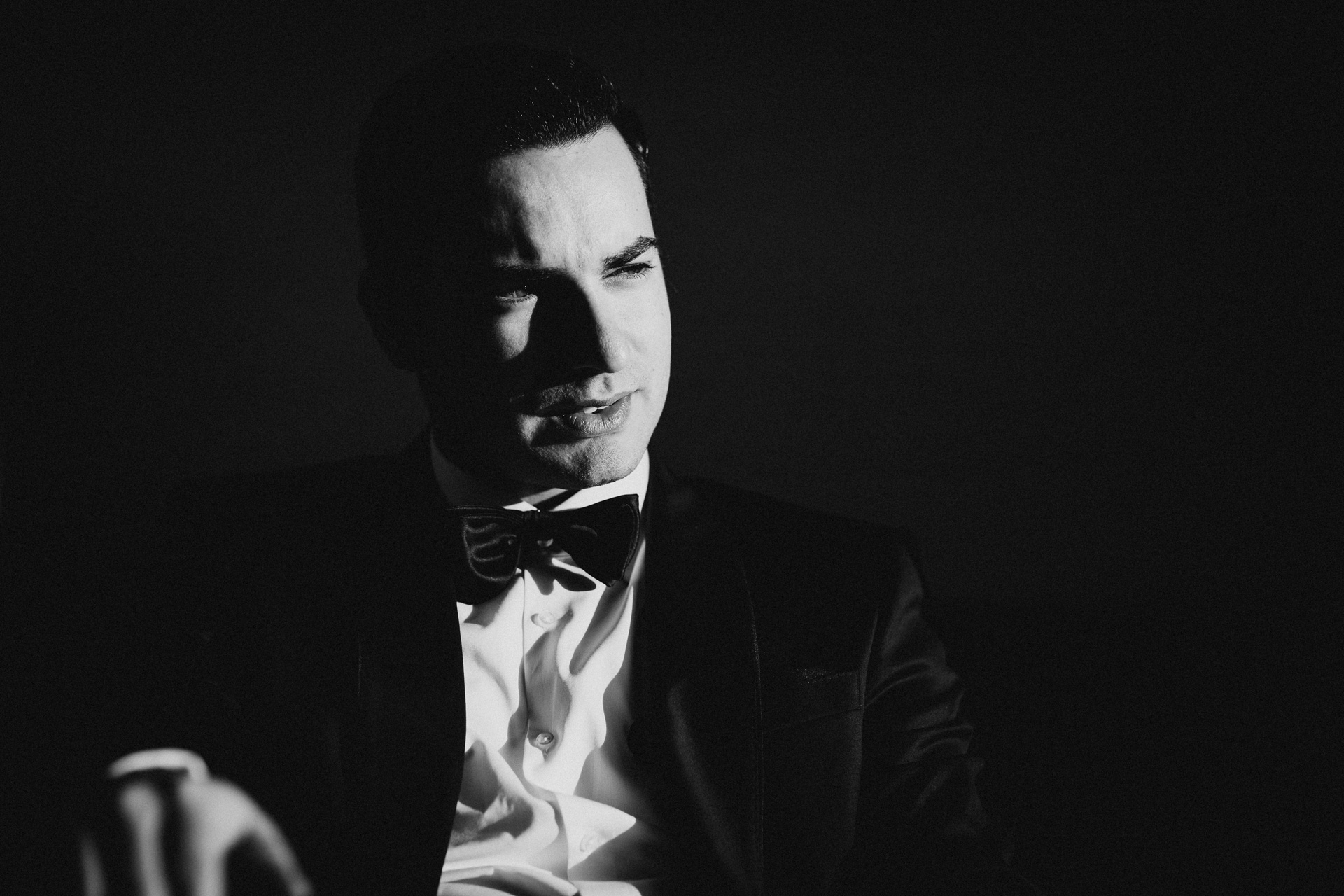 Tip # 7
Our next tip is about your wardrobe. Make sure that you learn how to tie a bow tie. If you or anyone in your group is going to be wearing bow tie make sure they know how to do it.
We've seen many times when grooms and groomsman trying to figure out how to tie a bow tie on the morning of the wedding and it makes everything run late. Learn how to tie a bow tie before the day of the wedding. Practice and make sure you groomsman also know how to do it quickly and so it looks good.
Tip # 8
Our second to last tip is to make sure that you are aware of what is going on with the wedding timeline. Maybe you're working with a planner or a coordinator and when they email out the final wedding timeline make sure you read that so you know what's going on. Read over it once or twice and then email it to your best person.
Hopefully you chose a responsible one so they can perhaps print out a copy or have a copy on the phone. They can help you keep track of everything and make sure that all the guys/girls are getting from place to place on time – you want to keep control of your group in general but you don't have to be the time keeper on the wedding day that can be the best person's job.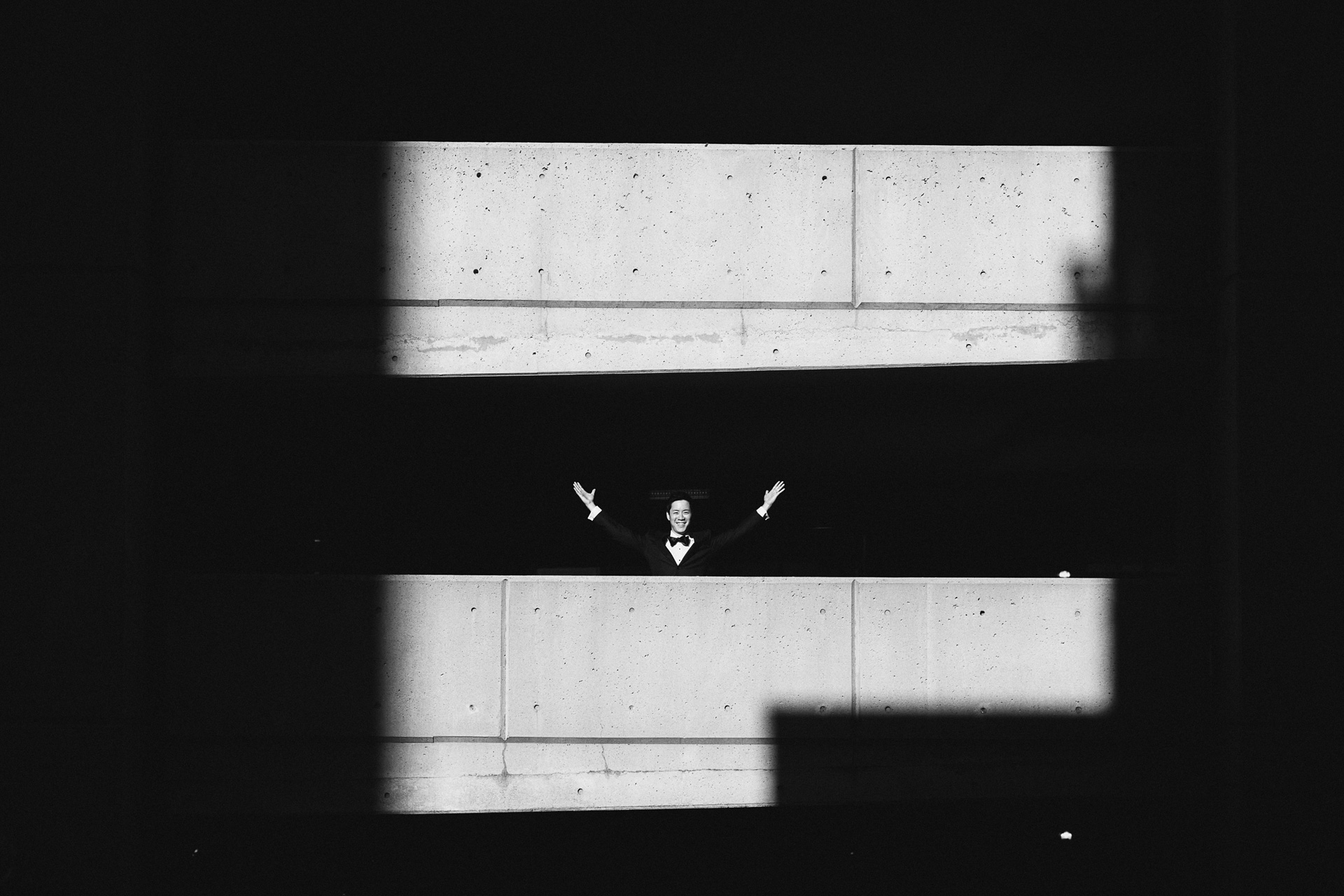 Tip #9
Our last tip for you is to make sure that you are helping out your partner, especially the week of the wedding. We feel a lot of times the wedding planning does tend to fall on the bride. It's because she's more interested in it or maybe she's just kind of more of a planner but make sure that you are pitching in to help the bride. It's no tall falling on her especially the week of the wedding so anything that you can take on yourself will help.
Make sure that you are pitching in to help and I'm sure she will really appreciate it. You want to have fun you want to have a good time on your wedding day but you also want to make sure that you are also shouldering a little bit of that burden of the planning. It is a lot to take on planning a wedding and it is no small feat. There's a lot that goes into it and you want to make sure that you are doing as much of the work as possible
We hope you found these tips helpful and we hope that you guys have a great time at your wedding.
Source. YouTube.