Our Top 5 Small And Hip Wedding Venues in Toronto
Are you planning a smaller wedding in Toronto? Are you looking for more funky place rather that a traditional banquet hall. That's awesome because we have some great recommendations for you.
We love small weddings for their intimate atmosphere and usually more relaxed experience for everyone attending the weddings. The biggest benefit of smaller weddings is the ability of being hosted at unique and chic locations around the town. You gain access to cool local restaurant, pubs and private clubs.
After shooting more than 500 weddings in Toronto and GTA our wedding photography team put together their top 5 small and hip wedding venues list. We picked these small wedding venues from the perceptive of a professional wedding photographer and also a wedding guest. Here are recommendations!

1. The Gladstone Hotel
The Gladstone Hotel is a boutique hotel and an art gallery located on trendy Queen St. West in Toronto.
What we love about this place is the architecture full of exposed brick walls,  restored pine flooring and big windows that reflect Victorian timeless charm. For wedding photos we recommend the hidden staircase or the old manually operate elevator.
The interior design of every room is different and our favorite place for getting ready is the Tower suite. This two-floor apartment offers an amazing 360-view of the city and private rooftop terrace great for wedding pictures.
The main space that can be used for ceremony and receptions is downstairs in the Ballroom and there is a second floor art gallery that can be used for cocktails.
The staff is friendly courteous and helpful. The food always gets a lot of prizes from all wedding guests. If you are looking for a one-of-a-kind experience this is definitely on of the places in Toronto.
Check out a full wedding that we shot at this amazing place here.
2. Steam Whistle Brewery
Steam Whistle was made for hipster's wedding in mind or at least someone who loves beer. This rustic venue is part of the actual Steam Whistle brewery and can host any event anywhere from 30 to 250.
As wedding photographer always on a hunt for cool photo locations we love that is located right across from CN Tower, Riply's Aquarium and Scotia Center. There are endless opportunities and awesome sights for taking wedding photography.
Here is a wedding that we shot at this cool wedding venue.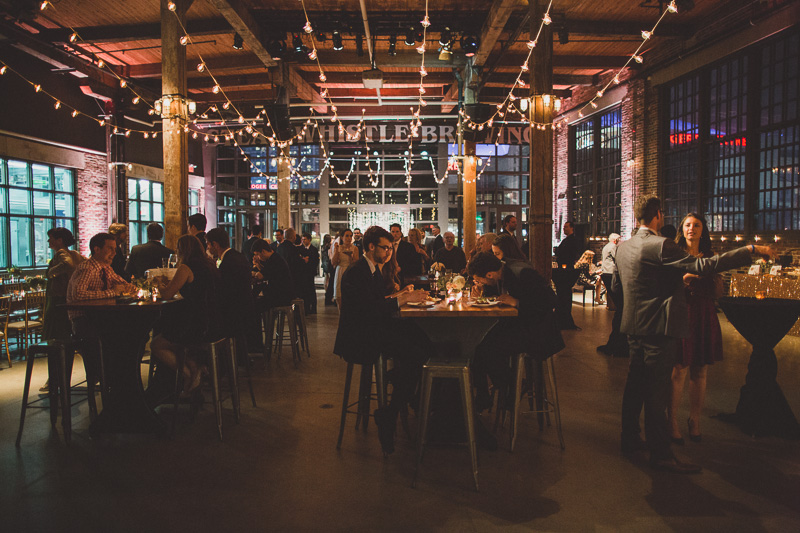 3. 2nd Floor Events
If you are looking for an open concept industrial look and casual vibes this might be the place to host your wedding or bespoke event. Located in the heart of Toronto's entertainment district off King Street.
We've shot there many time and the service was always excellent. Their in-house chef is incredibly talented and serves delicious food. Their long bar is well stocked and only One King West can rival their alcohol's selection.
4. Jump Restaurant
Restaurant weddings usually offer amazing experience and Jump restaurant doesn't disappoint. It belongs to Oliver & Bonacini family of restaurants renowned for their amazing service and customers experience.
We love this place for its classic style mixed with modern eclecticism. The sky high glass atrium, dramatic lighting fixtures, amazing bar, and courtyard patio provided the perfect backdrop for intimate weddings.
We love the O&B team as they are always very helpful. We highly recommend this magical place for anyones wedding.
One of the weddings that we shot there.
5. Canoe
Canoe is another restaurant that is part of Oliver & Bonacini Events. Located on the 54th floor of the TD Bank Tower offers a stunning view of our beautiful Toronto.
We love this place for floor-to-ceiling windows and amazing sunsets. It's a beautiful venue with chic interior design and superb service.
They offer tasty and creative menu, with a lot of flair and presentation. We've shot there many wedding the staff was always amazing and they will do anything to please their guests.
Here is one of the best wedding that we shot there last year.